Sábado 03/12/2.011
Caracas a Santa Elena de Uairén
Distancia: 1.281 Km.
Velocidad Promedio: 73,2 Km/h
Velocidad Máxima: 154,7 Km/h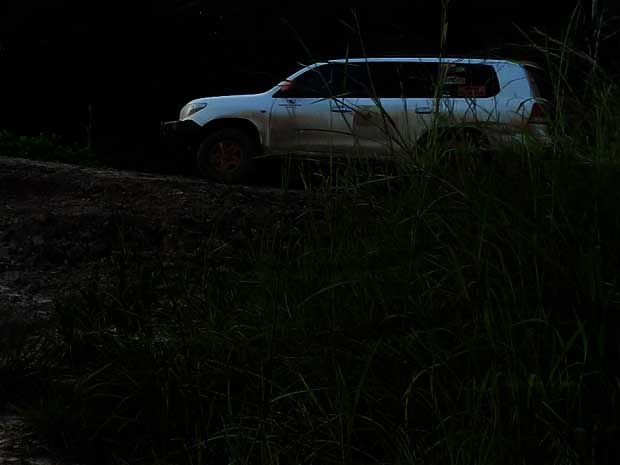 En la oscura noche que envuelve a la selva amazónica, prácticamente en el medio de la nada, dos amigos llegan hasta uno de los tantos puentes que son parte importante de la travesía por la BR-319 en Brasil. En la oscuridad, no resulta nada sencillo juzgar la condición de este, o de cualquiera de los otros puentes que tendrán que cruzar esta noche, si es que quieren mantenerse dentro del itinerario que se fijaron al salir de Caracas tres días antes.
In the dark Amazon jungle night, practically in the middle of nowhere, two friends come to one of the many bridges that are an important part of the journey through the BR-319 in Brazil. In darkness, it's not easy to judge its condition, or of any of the any other bridges they will have to cross tonight, if they want to stay within the schedule they set when they left Caracas three days ago.

No pueden evitar recordar que el pasado mes de septiembre, Lesley Norris y Bruce Scott pasaron un mal rato cuando el puente que cruzaban, cedió bajo el peso de su Mercedes Unimog. Este incidente tiende a venir a sus memorias al tener que enfrentar estos puentes sin la seguridad que brinda la luz del día. Están perfectamente conscientes de que las 8 toneladas del Unimog más que duplican el peso de su Land Cruiser, pero nunca se sabe…
De cualquier manera, si querían llegar a Cusco en 7 días, a tiempo para unirse a las festividades del cumpleaños, iban a tener que seguir adelante al menos un par de horas más.
They can't help but remember that last September, Lesley Norris and Bruce Scott had a hard time when the bridge they were crossing gave under the weight of their Mercedes Unimog. This incident tends to come to their minds whenever they have to face any of this crossings without the security provided by daylight. They are perfectly aware that the Unimog's 8 tons more than double the weight of their Land Cruiser, but you never know…
Anyway, if they want to be in Cusco in 7 days, in time to join the birthday celebration activities, they would have to keep going at least a couple more hours.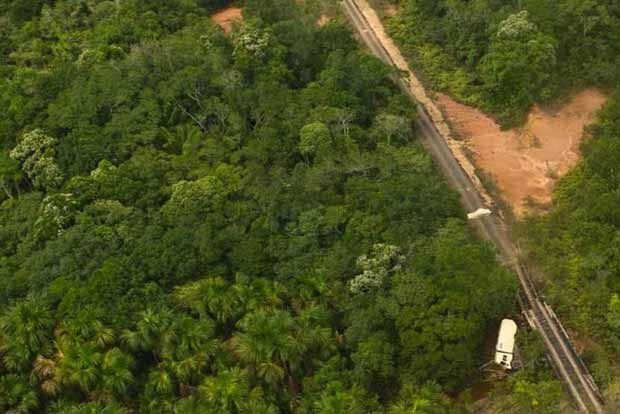 Más información acerca de Lesley, Scott, su interesantísima expedición y este incidente es su sitio web: http://www.treadtheworld.com/
There is more about Lesley, Scott, their amazing expedition and this incident in http://www.treadtheworld.com/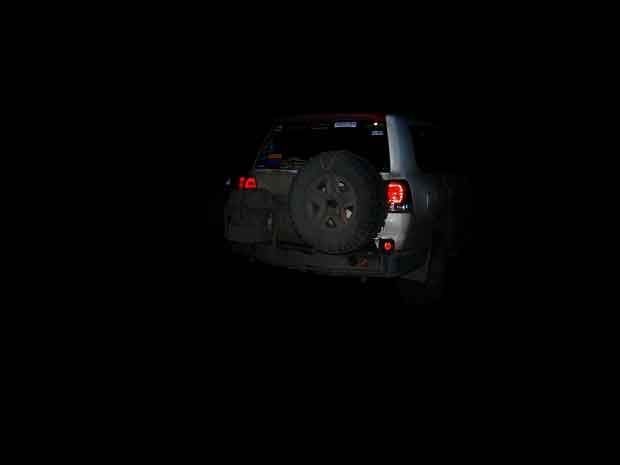 Avanzando lentamente en la oscura selva amazónica.
Slow progress in the dark Amazon jungle.
¿Qué haces si te invitan a un cumpleaños en Cusco?
Para muchos, viajar en el carro fuera del país parece un sueño imposible de lograr. Otros, simplemente esperan cualquier excusa para hacerlo… Y cuando esa oportunidad aparece, lo hacen.
En esta ocasión, la excusa fue celebrar el 70 cumpleaños del queridísimo Gabriel Zamora llegando a Machu Pichu por el Camino del Inca precisamente el día de su onomástico. Como cabría esperar, cada uno de los invitados tenía distintos compromisos y responsabilidades, diferente disponibilidad de tiempo e ideas muy particulares sobre como atender a tan importante invitación.
What would you do if you were invited to celebrate a birthday in Cusco?
For many, traveling abroad by car looks like an impossible dream. Others simply wait for an excuse to do it, and when the opportunity shows up, they do it.
On this occasion, the excuse was to celebrate the 70th birthday of our beloved friend, Gabriel Zamora, by arriving to Machu Picchu after walking the Inka Trail, the very day of his birthday. As expected, each of the guests had other commitments and responsibilities, different time availability issues, and very particular ideas about how to address this important invitation.
El feliz cumpleañero en plena celebración por las cumbres andinas. ¡Como debe ser!
The happy birthday man, celebrating on top of the Andean peaks. As it should be!
Algunos invitados partieron hacia el Cusco en avión, otros en un carro por Colombia y otro grupo, que incluía al cumpleañero, partió el 16 de noviembre en carro vía Brasil. A causa de compromisos ineludibles adquiridos anteriormente, dos amigos partieron en un último carro, también vía Brasil, con el compromiso de llegar a esa ciudad 7 días más tarde. Aunque para entonces ya habría culminado el paseo por el Camino del Inca, la idea era acompañar a los otros tres carros en el camino de regreso a Venezuela desde el Perú.
Este es el relato de esta última avanzada, cuya meta era reunirse con el resto del grupo en Cusco el día 9 de diciembre, partiendo de Caracas el día 3 del mismo mes.
Así pues, comenzaron a preparar la documentación para sacar el carro del país, entre los cuales está una "experticia de tránsito". Ocurrió que tan pronto llegó la camioneta a la cola para hacer la fulana experticia, fue rechazada por tener instalado un parachoques delantero distinto al original. De nada valieron argumentos como que la experticia era solo para salir del país, o que la responsabilidad no era de su dueño, sino del INTT por haber paralizado las homologaciones de manera arbitraria. La única respuesta que se obtuvo fue: "Son órdenes de arriba". Quisieron entonces saber quién era ese de arriba, en un lugar donde además no había segundo piso, que tiene el poder de quebrantar las leyes y normas establecidas con una simple orden. Pero no hubo respuesta. No queda más que pensar que los tipos estos querían dinero, real, para emitir la necesaria experticia.
Some guests left for Cusco by plane, others in a car via Colombia and another group, which included our birthday man, left Venezuela by car on November 16 via Brazil. Because of previously undertaken work obligations, two friends set off in a last car, also via Brazil, with a commitment to reach Cusco 7 days later. Even though by then, the Inka Trail walk would be completed, the plan was to join the other three cars on the way back from Peru to Venezuela.
This is the story of this last group, whose goal was to join the rest of the group in Cusco on December 9, leaving Caracas on Dec. 3.
And so, they started to prepare the necessary documents to travel abroad with the car, among which is a vehicle inspection by transit authorities. It happened that as soon as the Land Cruiser joined the line for inspection, it was rejected because of the aftermarket bumper. Arguments were useless, even though the inspection was just to leave the country. Even explaining that the problem wasn't the vehicle's owner responsibility, but of the transit authorities for not carrying out the vehicle homologation process when requested to do so by their owners, as requested by law. This means that they were the ones breaking the law, not our aspiring travelers. Nevertheless, the only answer they got was "these are orders from above". Who is this guy from above, in a place that doesn't even have a second floor, who has the power to break the law with a simple order?, they asked, but there was no answer. They were left to think that these guys probably just wanted money to issue the inspection paper.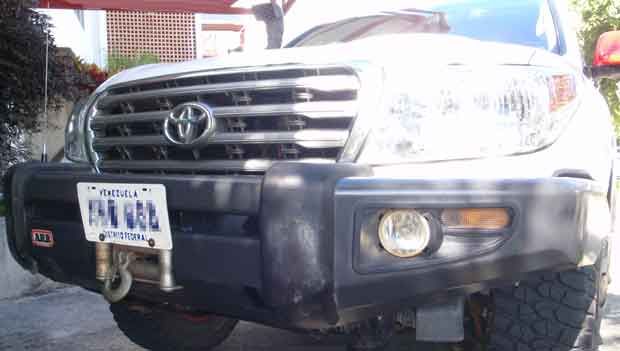 Este es el motivo del problema que casi acaba con los planes de viaje.
This is the reason why all the trip plans were almost ruined.
Finalmente, y muy a la venezolana, no quedó más remedio que recurrir al amigo de un amigo que tenía un conocido que trabajaba hace años con la hermana de alguien que trabaja en tránsito, y podía hacer el favor de conseguir la experticia si le llevaban las improntas. Así, con toda la rabia y la impotencia del caso, no quedó más remedio que recurrir a esta vía para solventar el tema y poder salir del país.
Resulta incomprensible que de manera arbitraria y lógicamente ilegal, un instituto de servicio público como debería ser el INTT, usurpe el derecho de abrogar las leyes y reglamentos que deberían regirlo, solo porque existen "ordenes de arriba". En fin, cosas de las dictaduras.
Una vez resuelto este desagradable tema, el resto del papeleo se resolvió rápidamente. Un sencillo mantenimiento al vehículo, cambio de aceite, rotación de cauchos, instalación de pastillas de freno nuevas. Cargarlo con algo de comida, los peroles indispensables de costumbre, algo de equipaje personal y ya estaban listos para partir.
Hecho todo esto, solo restaba ver si lograrían salir del país, vía Santa Elena de Uairén, sin sufrir los embates del matraqueo y la corrupción en las alcabalas a causa del parachoques, sin el cual el winche, y buena parte del viaje planeado inicialmente quizás no serían posibles.
Finally, in typical Venezuelan fashion, they had to resort to a friend of a friend, who had an acquaintance, who years ago, worked with the sister of someone who worked with the transit office, and could do the favor of getting the inspection paper for them. So, with a strong sentiment of rage and impotence, they had to agree on solving the inspection issue in this manner if they wanted to leave the country.
It is incomprehensible, that in an arbitrary and illegal way, a public service institution like the traffic office, usurps the right to ignore laws and regulations, just because there are orders "from above". Well, we guess that is just how things work when a country is ruled by a dictator.
After solving this very unpleasant issue, the rest of the paperwork was quickly resolved. A simple vehicle inspection, an oil change, tire rotation, installing new brake pads. Load it with some food, the usual essential stuff, some personal luggage, and they were set to go.
Having done all this, all that remained was to see if they would be able to leave the country through Santa Elena de Uairén, some 800 miles away, without suffering the ravages of rattling and corruption at checkpoints, because of the bumper, without which, the winch, and much of the originally planned trip may not be possible.
En este paseo, los amigos de siempre.
On a new trip with the same old friends.
Partiendo de Caracas a las 0500 hrs, encontraron mucha lluvia a lo largo del camino. Mención especial recibe el pésimo estado de las carreteras, especialmente el tramo de "autopista" que bordeando la Laguna de Unare, sirve para evitar la subida de Aguas Calientes. Además de extremadamente peligroso, realmente resulta vergonzoso que tengamos esa exhibición de grietas, huecos, cráteres y lagunas en nuestro país. La zona parece Afganistán después de un mal día de bombardeos.
Entre malas carreteras, y la anarquía que tanto tiempo y vidas cobran en nuestras vías, continuaron hasta El Callao, donde hasta hacía unas horas, y por varios días, un grupo de mineros había cerrado la vía en una de las tantas protestas que vemos a diario por todo el país. Esto ocasionó una interrupción del suministro de gasolina que afectó a todas las poblaciones que encontraron en el camino hasta Santa Elena, en las cuales observaban con sorpresa, enormes colas en las estaciones de servicio que recordaban a aquellas que acompañaron el famoso paro petrolero de 2.002. Sin embargo, habiendo previsto esta situación, lograron llegar a destino sin mayores inconvenientes en ese sentido.
Llegando a Santa Elena fueron detenidos en un puesto del ejército donde debieron descargar parcialmente la camioneta como parte de la rigurosa inspección a que fueron sometidos. Incluso, uno de los funcionarios pidió que se abriera el "quemacoco", a fin de revisar con una linterna el espacio libre en el techo donde se aloja el vidrio al retraerse. Comentaron que nunca habían visto o sabido de una revisión así.
Llegaron ya de noche a su destino y cenaron un sencillo plato de plasta en un pequeño restaurante de la localidad. De allí salieron a buscar alojamiento. Había que descansar, a fin de iniciar las tareas que les esperaban al día siguiente bien temprano en la mañana.
Buenas noches.
Nota. Sabedores de que nuestros lectores disfrutan mucho viendo las fotografías de viajes y paseos que aquí solemos presentar, y considerando que la velocidad de conexión a Internet en Venezuela no es precisamente la mejor, la presente es la primera de muchas entradas, 59 para ser exactos, en la que pretendemos presentarles un recuento de un paseo que, a lo largo de 21 días, llevó a quienes lo disfrutaron a recorrer 11.200 kilómetros a través de Venezuela, Brasil, Perú, Ecuador y Colombia.
They left Caracas at 0500 hrs, and found a lot of rain along the way. The bad road conditions, especially in the Laguna de Unare stretch of "highway", deserve a special mention. It is really embarrassing that we have such an exhibit of cracks, voids, potholes, craters and wells in the roads of our country. The area looks like Afghanistan after a bad day of bombing.
From Caracas at 0500 hrs, they found a lot of rain along the way. Special mention get the bad road conditions, especially the stretch of "highway" that along the Laguna de Unare, serves to prevent the rise of Aguas Calientes. In addition to extremely dangerous, it really is shameful that we have that exhibit cracks, voids, craters and lakes in our country.
Even with the bad conditions, and the anarchy that claim so much time and lives in the roads of our country, they continued to El Callao, where for several days, and until just a few hours ago, a group of miners has closed the road in one of the many protests we see daily throughout this poor nation. This caused a gasoline supply disruption affecting all populations found on the road to Santa Elena, where they could see, not without surprise, huge queues at service stations reminiscent of those that accompanied the famous oil strike of 2002. However, having foreseen this situation, they reached their destination without major difficulties in this regard.
When they were about to arrive to Santa Elena, they were stopped by soldiers at an army checkpoint, where they they had to partially unload the Land Cruiser as part of the most rigorous inspection they had seen. One of the soldiers even requested them to open the sunroof, in order to be able to check with a flashlight, the free space in the roof, where the glass piece is housed when it retracts.
They arrived to their destination after dark, and had a simple pasta dish for dinner in a small local restaurant. From there, they went looking for a place to sleep, as they needed to rest, in order to start all they had to do the next day very early in the morning.
Good night.
Note. Knowing that our readers really enjoy seeing the photos of trips and tours usually presented here, and considering that the speed of Internet access in Venezuela is not exactly the best, this is the first of many entries, 59 to be precise, in which we intend to present an account of a trip, that over 21 days led to those who enjoyed it, to travel 6,960 miles through Venezuela, Brazil, Peru, Ecuador and Colombia.