Domingo 04/12/2.011
Santa Elena de Uairén a Entrada de la Reserva Waimiri-Atroari.
Distancia: 707 Km.
Velocidad Promedio: 67 Km/h
Velocidad Máxima: 159 Km/h
Tras pasar la noche en Las Cabañas Roraima, había que dirigirse al Comando de la Guardia Nacional, para llevar adelante los trámites para sacar el carro del país, pasar por el Saime para los de inmigración, comprar Reais, y de ser posible, conseguir gasolina en medio de la desastrosa situación con el suministro de este combustible.
After spending the night in the Roraima Cabins Hotel, they had to go to National Guard command post, to carry out the procedures to get the car out the country. Then they would need to go to immigration for passports stamps, buy Reais (Brazilian currency), and if possible, get some gasoline in the midst of the disastrous situation with the supply of this fuel.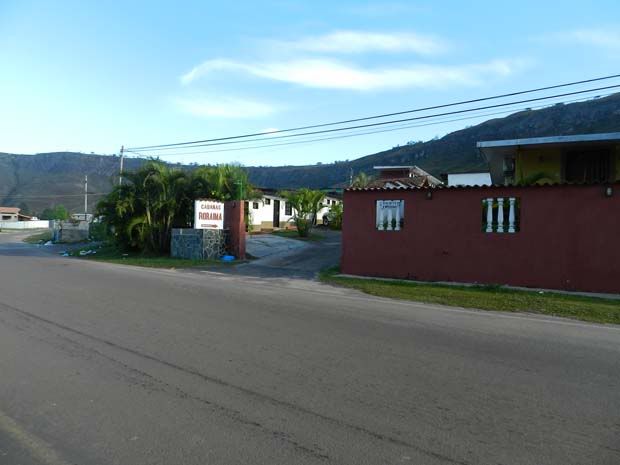 Las Cabañas Roraima. Un lugar con lo básico para pasar una noche que resultó perfectamente adecuado y con servicios ajustados a su precio.
The Roraima Cabins. A basic place to spend the night that happened to be perfectly adequate y with services according to its price.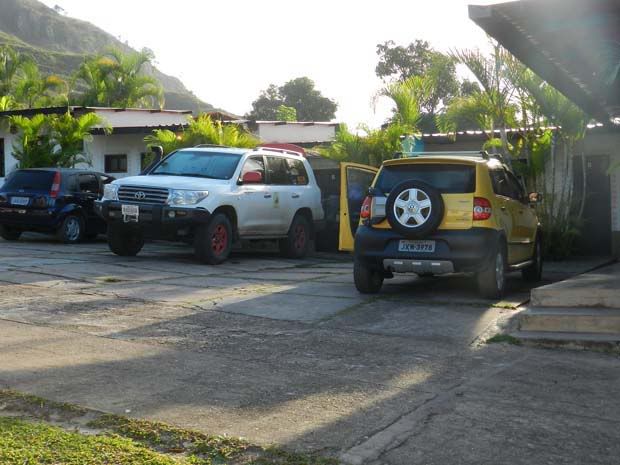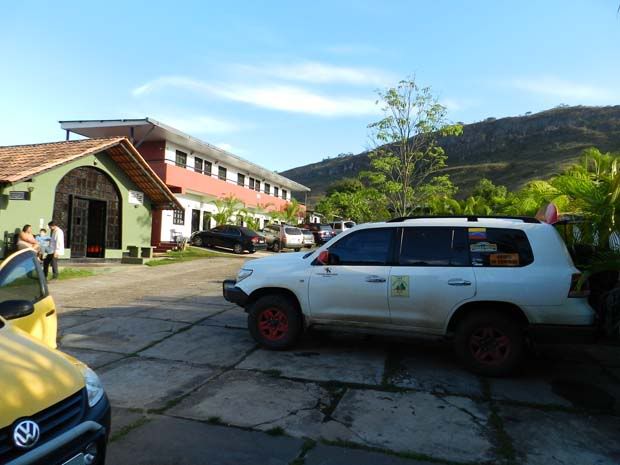 Al llegar al Comando de la Guardia Nacional, la noticia fue que debido a la situación en las bombas de gasolina, todo el personal disponible estaba destacado en estas, por lo que no sería posible hacer los trámites correspondientes. La única opción era buscar a uno de los dos encargados de hacer la salida de vehículos en alguna de las bombas, y pedirle el favor de que se acercara hasta el comando a hacer el papeleo del caso.
Por suerte el militar en cuestión accedió a ello después de solicitar permiso a su jefe, y se logró hacer el trámite. En el entretanto, también lograron cargar 60 litros de gasolina, pero no hubo tanta suerte con los Reais, que por alguna razón escaseaban ese día.
Cumplidos los trámites del Saime, hacer los correspondientes a la entrada del carro y sus pasajeros a Brasil fue realmente rápido. Ya estaban fuera de Venezuela.
Upon arrival at the National Guard Command, the news was that due to the situation at the gas pumps, all available personnel had been sent there. Therefore, it would not be possible to make the appropriate arrangements for allowing the vehicle to leave the country. The only option was to find one of the two guys in charge of handling this paperwork, and ask him to please go to the command and handle the proceedings for them.
Luckily the soldier in question agreed to it, after requesting permission from his boss, and they managed to get the paperwork done. In the meantime, they also managed to buy 60 liters of gasoline, but no such luck with Reais, which for some reason were scarce that day.
Once these papers and the immigration formalities on the Venezuelan side were ready, getting all the paperwork for the car and its passengers to enter Brazil was really quick. Now they were out of Venezuela.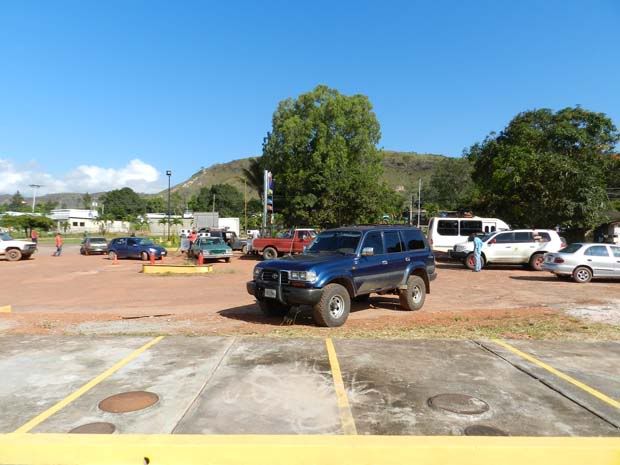 El desastre en las bombas de gasolina. Definitiva y tristemente, la anarquía se ha posesionado de Venezuela.
The disastrous situation at the fuel stations. Definitely, and sadly enough, anarchy has taken possession of Venezuela.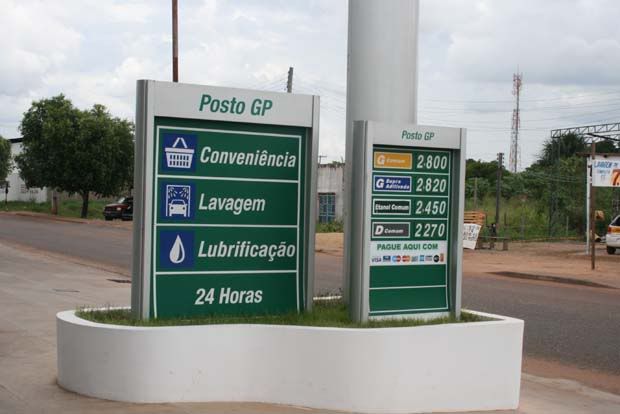 Empieza la tortura de los precios de la gasolina fuera de Venezuela. Aquí vemos que la más barata, de octanaje desconocido, cuesta $1,58 el litro. Considerando la lógica retorcida de este gobierno, que no otorga dólares vía CADIVI a los que viajan por tierra, tenemos que aquí pagamos Bs. 14,20 por cada litro de gasolina.
And the torture of gasoline prices outside Venezuela begins. Here we see that the cheapest, unknown octane gas, costs $ 1.58 a liter. As a reference, in Venezuela, 95 octane unleaded costs $ 0.038 (3.8 cents) per gallon. This means that $1 gets you 26.32 gallons of 95 octane unleaded, at current black market exchange rates (Venezuela has a very strict foreign currency exchange control system in place).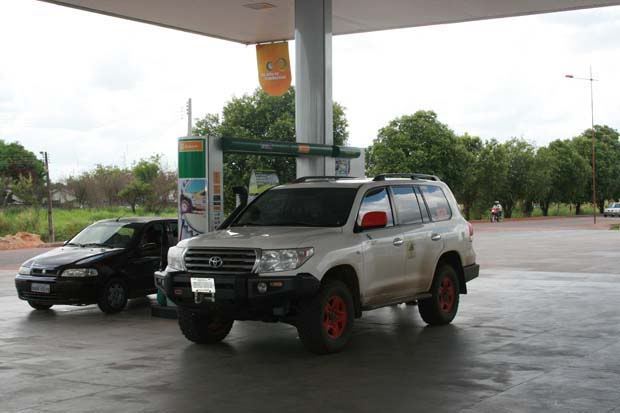 Las fotos en estaciones de servicio son muy comunes, puesto que en este tipo de viajes, representan una de las pocas oportunidades regular para tomarlas.
Photos at service stations are very common, since in this type of travel, represent one of the few regular opportunities to take them.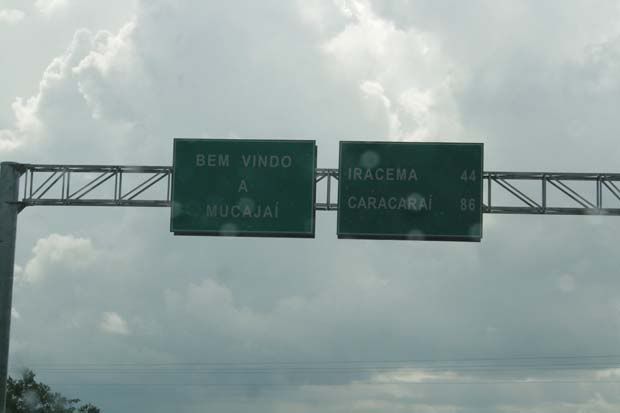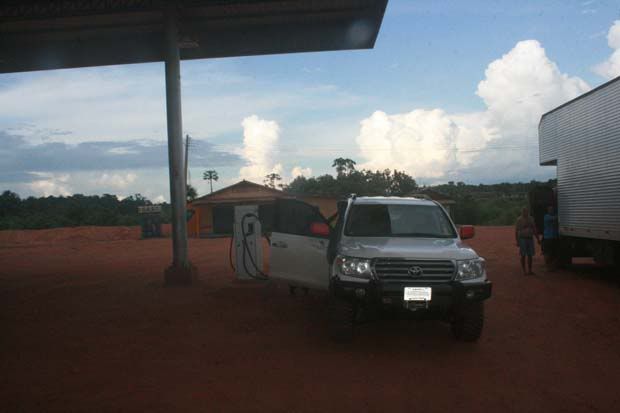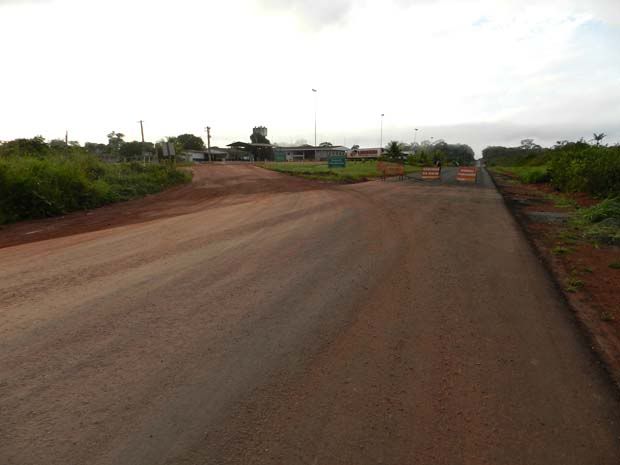 Así luce la carretera para los que llegan a la Reserva Waimiri-Atroari después de la hora de cierre. Este primer bloqueo obliga a entrar a un terraplén a la izquierda.
This is how the road looks to those who arrive at the Waimiri-Atroari Reserve after closing time. This first road block requires entering an embankment on the left.

Este es el segundo bloqueo, que detiene a quien pretenda pasar por el terraplén y continuar su camino evadiendo el primero.
This is the second road block, which stops anyone trying to go through the embankment and move on, evading the first.
A causa de los retrasos para salir de Santa Elena, no pudieron llegar a la Reserva Waimiri-Atroari antes de que cerraran la carretera, ya que por la reserva, no está permitido circular de noche. Así que les tocó pasar pernoctar al lado de esta, en un terraplén donde solo hay un puesto de la Policía Federal y una estación para el control de peso de los camiones. Aquí pasan la noche los viajeros, en su mayoría camioneros, que se ven en la misma situación que nuestros amigos.
Because of delays in Santa Elena, they could not reach the Waimiri-Atroari Reserve before they closed the road, because driving through is not allowed at night. So they had to spend the night in a roadside embankment, where there is only one Federal Police station and a truck weight control spot. Here, travelers, mostly truck drivers, who are in the same situation as our friends, have to spend the night, until the road is opened the next day.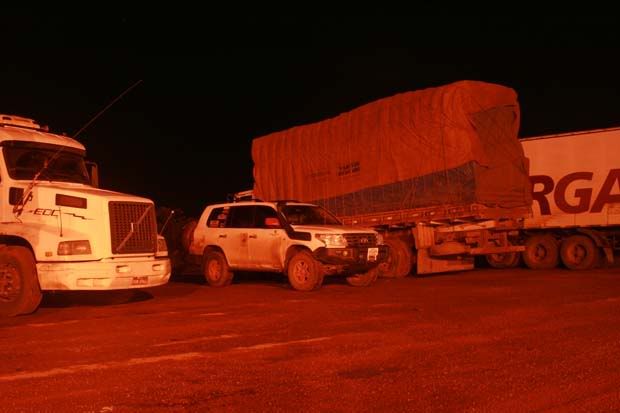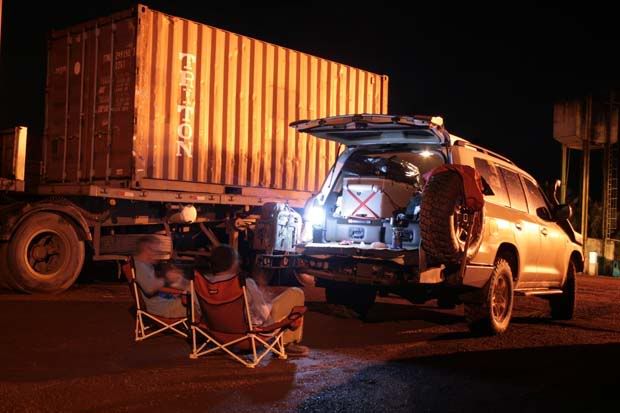 Aunque a muchos no les parezca, para los que disfrutan de esta forma de viajar. ¡Esto es vida!
Although many might not agree, for those who enjoy this form of travel, this is life!