Martes 06/12/2.011
Castanho a S 05° 08' 56,1'' W61° 45' 40,4'' (Aristóteles, BR-319)
Distancia: 375 Km.
Tiempo Total: 15 horas y 35 minutos
Velocidad Promedio: 24 Km/h
Velocidad Máxima: 104,1 Km/h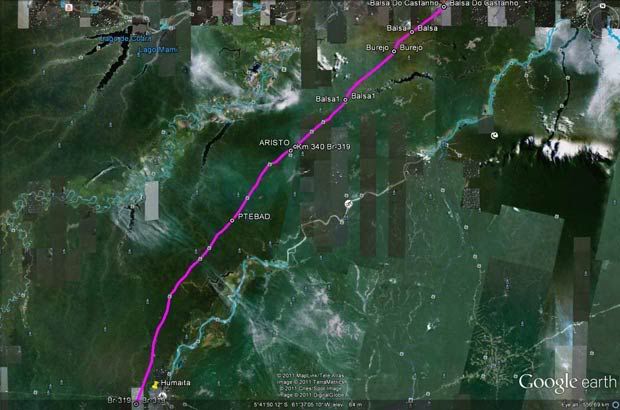 La población de Castanho es la puerta de entrada a la célebre BR-319. Al menos para los que vienen desde el norte.
The town of Castanho is the doorway to the famous BR-319. At least for those approaching from the north.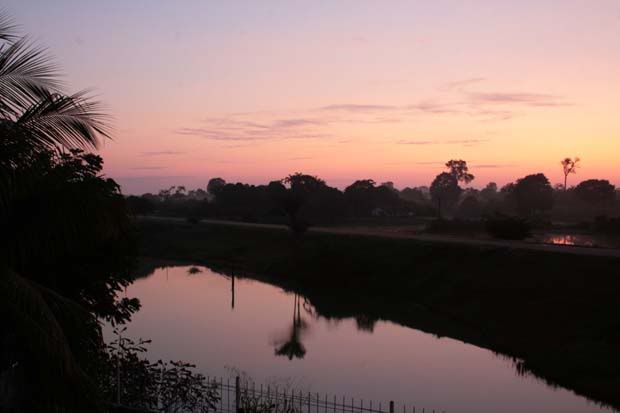 El amanecer en Castanho.
Sunrise in Castanho.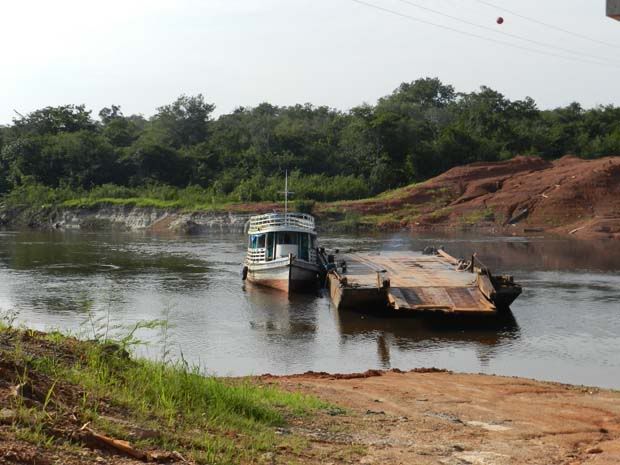 Este es el primer paso de chalana, ya en la BR-319, a unos 70 kilómetros de Castanho. Aquí el chalanero les advirtió que unos kilómetros más adelante la vía estaba interrumpida y que pasar sería imposible. Sin embargo, era necesario cruzar el río y confirmar la información.
This is the first barge crossing once in the BR-319, about 45 miles away from Castanho. Here the skipper warned them that a few miles ahead, the road was interrupted, and that there was no way to pass. Nevertheless, they had to cross the river and see the actual situation by themselves.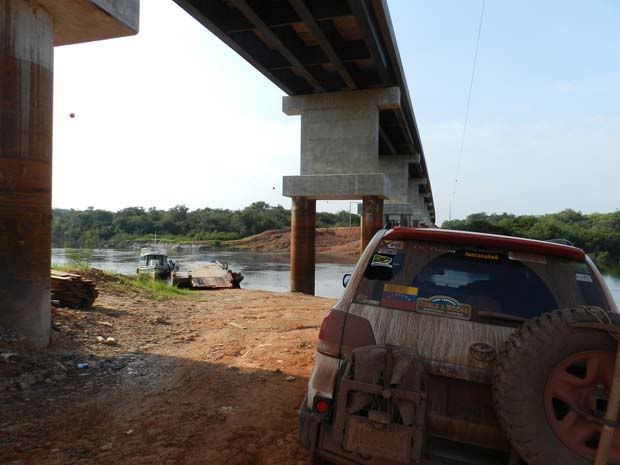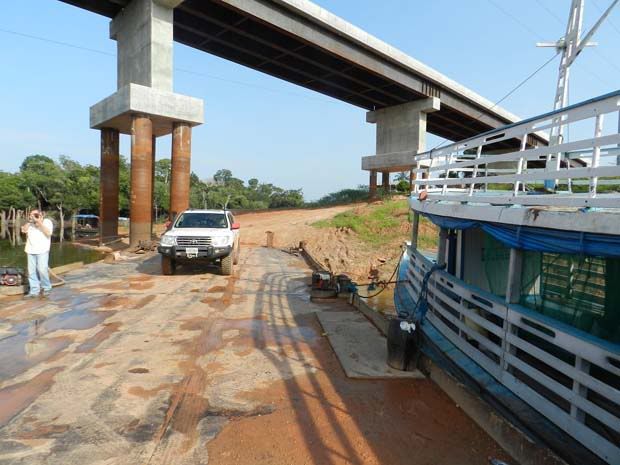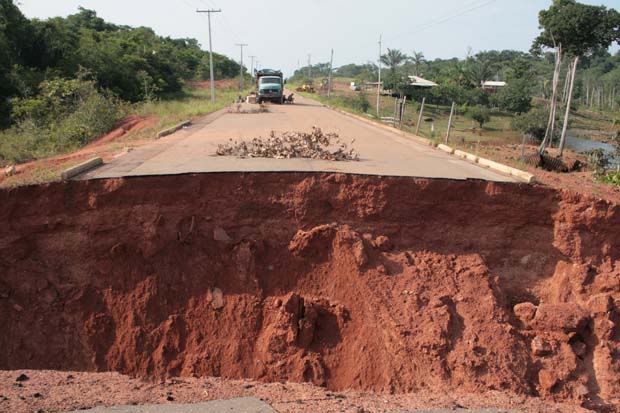 Este es el "buraco" al que se refería el chalanero. El Río Tupana había barrido la carretera, y la gente del camión Mercedes Benz que se ve en la foto, ya tenía tres días esperando para pasar. Coordenadas: S 04° 15' 20,1'' W60° 50' 13,4″
This is the "buraco" (hole in Portuguese). The Tupana River has swept the road, and the people traveling in the Mercedes truck you can see in this photo, had already been here waiting for three days for the road to be repaired. Coordinates: S 04° 15' 20,1'' W60° 50' 13,4″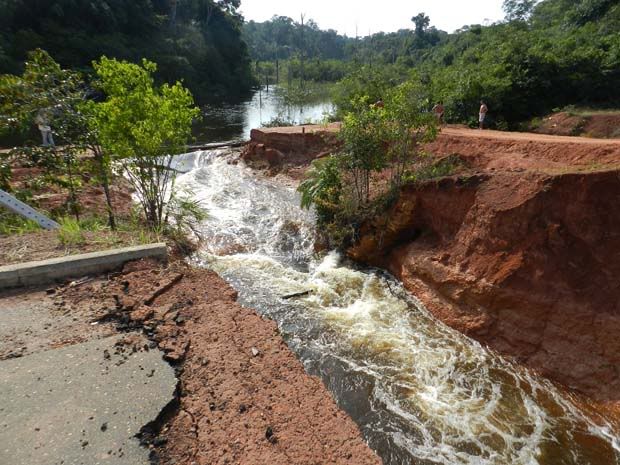 No es fácil venir contento, satisfecho de pensar en el avance logrado, para encontrar este obstáculo que pone en peligro todo el viaje tan temprano en la mañana.
It isn't nice at all to arrive here, being pleased of the progress made to this point, and be greeted by this obstacle that threatens the success of the trip, so early in the morning.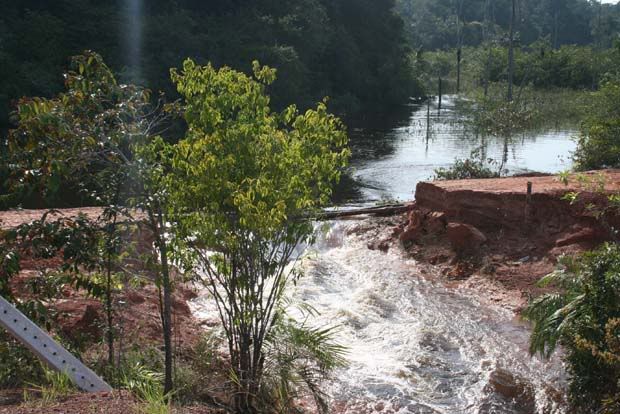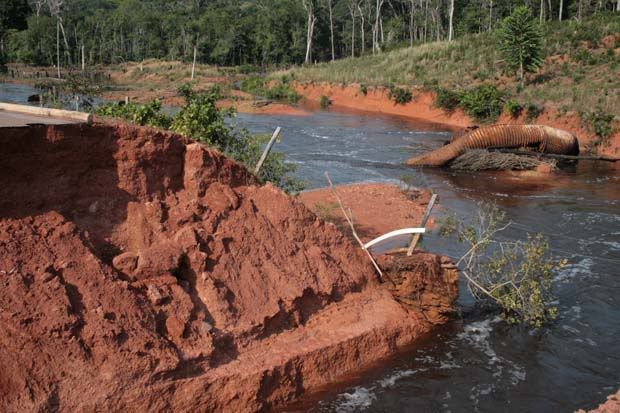 Poste de fibra de vidrio en la BR-319.
A fiberglass light pole in the BR-319.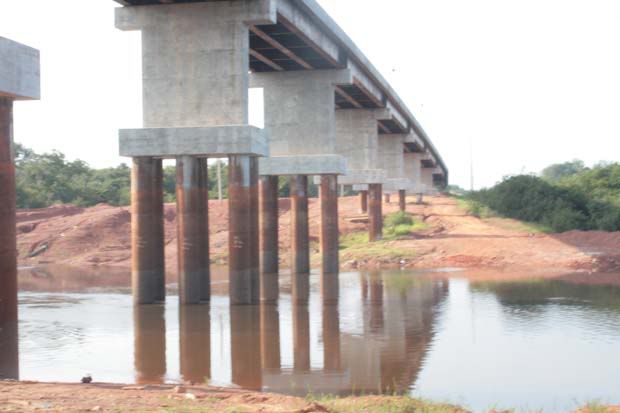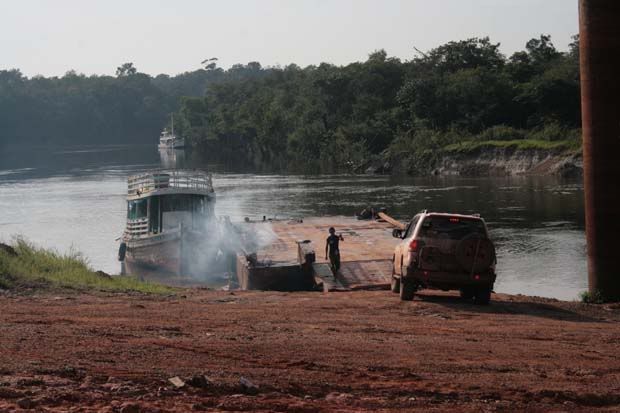 Después de hablar y preguntar a todo el que vieron (esta pedacito del planeta no se distingue precisamente por tener una densidad poblacional elevada) incluyendo a una cuadrilla de empleados de Embratel, concluyeron que muy probablemente, habría paso esa misma tarde. Entonces decidieron regresar a Castanho, con la finalidad de reforzar las provisiones (nunca se sabe si otro "buraco" puede detener el avance por varios días) e informarle al resto del grupo sobre el inconveniente.
After asking and talking to everyone they saw (this small part of the world is not known for its high population density), including an Embratel work squad about the situation, they concluded that most likely, the road could be repaired by that afternoon. They decided to return to Castanho, in order to reinforce their food and water supplies (you never know if another "buraco" can stop your progress for several days) and to inform the rest of the group about the setback.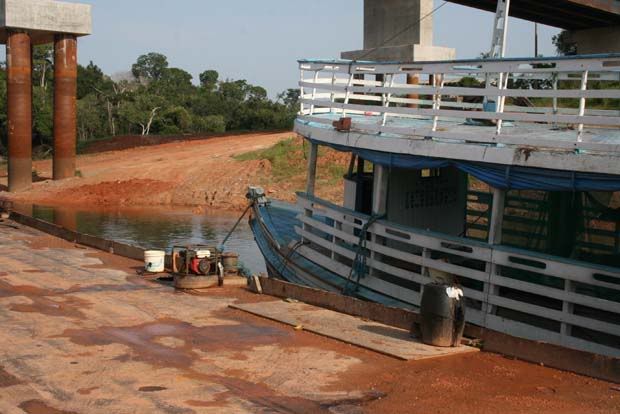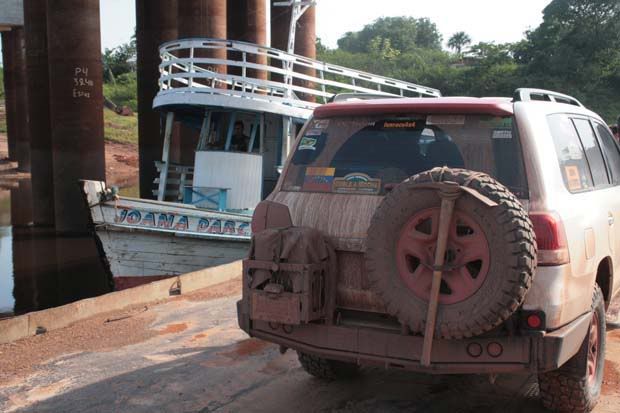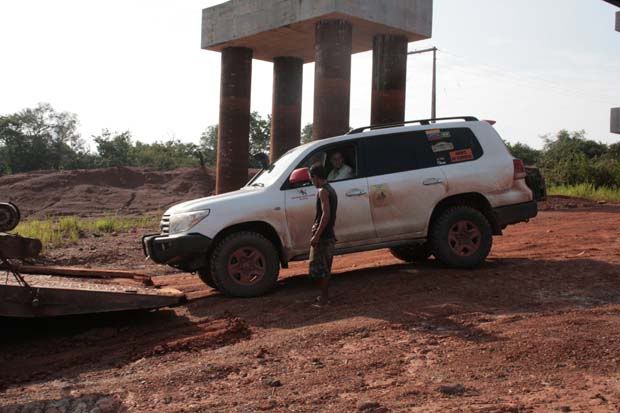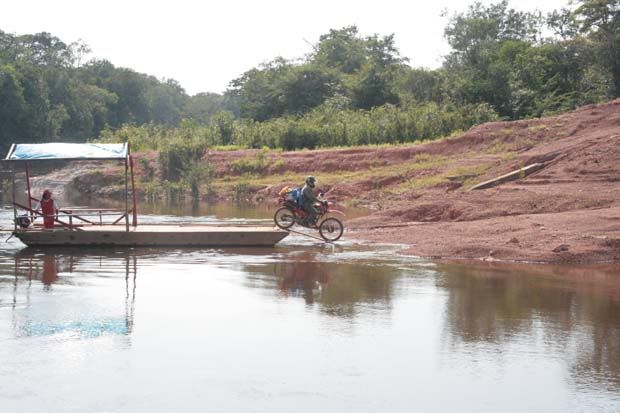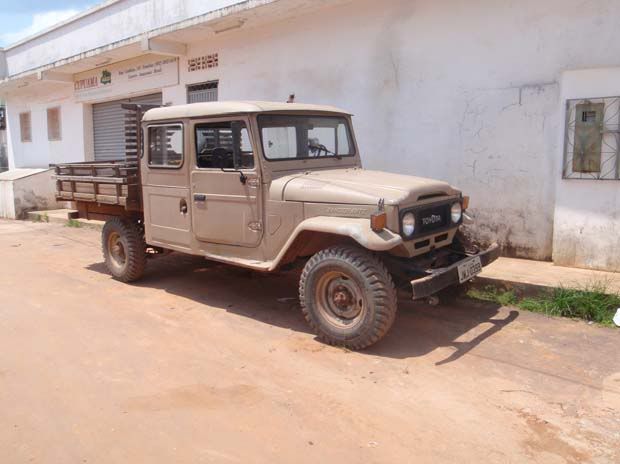 De regreso en Castanho, pudieron apreciar este espécimen de una especie en extinción, puesto que en esta oportunidad, en comparación con las anteriores, había muchísimos menos ejemplares que observar.
Back in Castanho, they could appreciate this specimen of an endangered species, since this time, compared with previous visits to Brazil, there were far fewer of them in sight.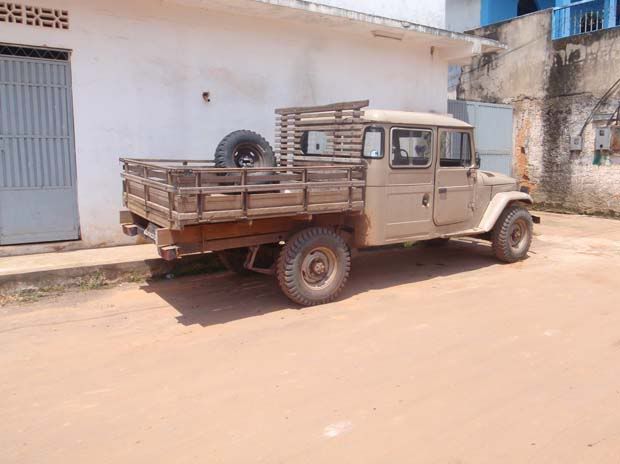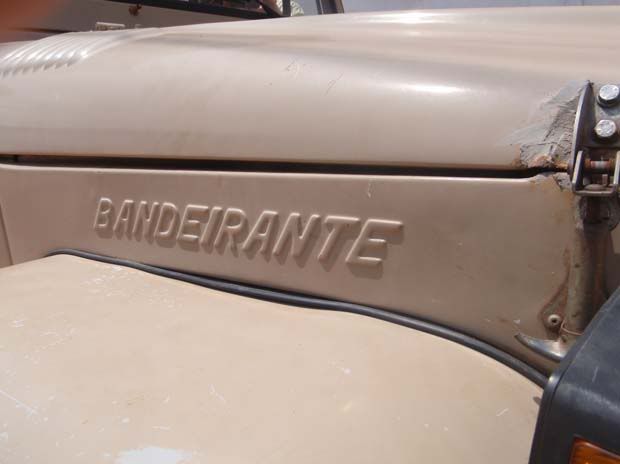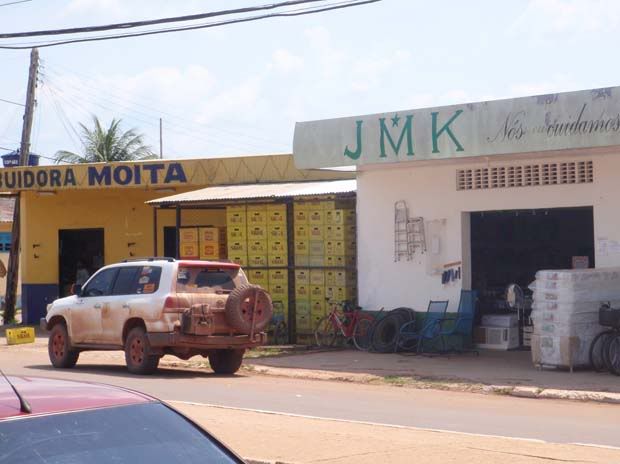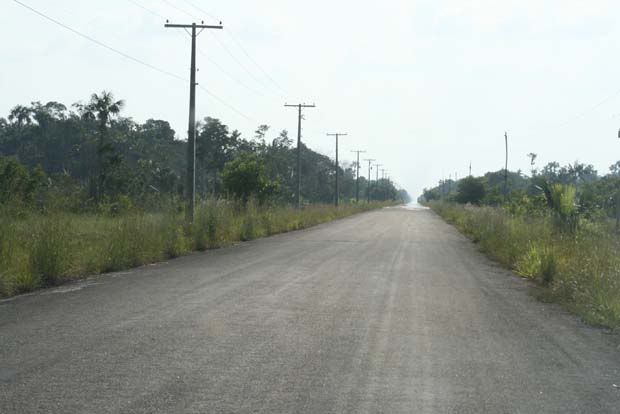 Así comienza la BR-319 desde Castanho. Quizás sea para engañar a los incautos.
This is how the BR-319 starts from Castanho. Perhaps with the intention to fool the unwary.
Al regresar al buraco, el proceso de abrir un paso alterno ya estaba muy adelantado.
When they returned to the buraco, the works to provide an alternate path were already well advanced.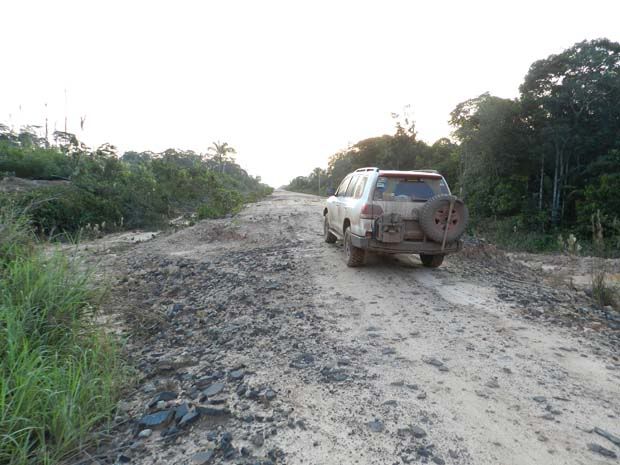 Ya avanzada la tarde pudieron cruzar. Aquí empieza la verdadera BR-319, pero considerando el tiempo perdido (casi un día) sería necesario rodar de noche, a pesar de lo inconveniente que ello resulta.
Late in the afternoon they could finally get through. This is where the real BR-319 starts, but considering all the lost time (almost one day) it would be necessary to continue advancing during the night, despite how inconvenient that can be.
Rodar de noche resulta muy inconveniente en este tipo de viajes fundamentalmente por dos motivos. En primer lugar, están las consideraciones de seguridad. Cuando se acomete un viaje de esta magnitud, y se está tan lejos de todo lo familiar y conocido, es necesario tomar muchas precauciones adicionales, que incluyen cuidar al máximo el carro. Por ningún motivo queremos echar a perder por causa de un error tonto, un viaje que tanto nos costó lograr.
En segundo lugar, no tiene sentido organizar un paseo a sitios tan lejanos para no ver nada rodando de noche. Lo ideal, para conocer y disfrutar lo más posible los nuevos lugares y paisajes que se encuentran en estos viajes, es arrancar en la mañana y detenerse un poco antes del ocaso, a más tardar.
Driving at night during these trips is very inconvenient primarily for two reasons. Firstly, there are safety issues to consider. When undertaking a trip of this magnitude, and you are so far from everything that is familiar and known, it is necessary to take many additional precautions, which include taking utmost care of your vehicle. Under no circumstance we want to risk ruining a trip that cost so much to achieve because of some silly mistake.
Second, it doesn't make any sense to organize an outing that will take you so far from home, and be unable to enjoy the views just because you are driving at night. The ideal thing to do, in order to be able to know and enjoy as much as possible the new places and scenery you'll find on these trips, is to hit the road early in the morning and to stop a little before sunset.

La segunda chalana en la BR-319, presta sus servicios para cruzar el Igapó Açú. Aquí coincidieron con un joven trabajador de Embratel que se dirigía en moto hacia una de las antenas de esa empresa, donde pasaría la noche. Después de conversar unos minutos, decidieron que ya que viajarían juntos, podrían avanzar un poco más, hasta la siguiente antena, llamada Aristóteles.
The second barge found in the BR-319, serves to cross the Igapó Açú River. Here they met a young Embratel worker traveling by bike to one of the company's antennas, where he planned to spend the night. After talking for a few minutes, they decided that if they were to continue together, they could very well go a little further, until the next antenna named Aristotle.
La BR-319 unía Manaos (Amazonas) y Porto Velho (Rondonia) hasta que se la declaró intransitable en 1.988. Fue construida entre 1.972 y 1.973, y recorre un total de 877 Km. Cuando los aficionados al 4×4 hablan de esta vía, se refieren a un tramo de unos 470 Km., que van desde unos 90 Km al sur de Castanho hasta las proximidades de Humaitá. Este trecho se caracteriza por el asfalto roto, que castiga duramente a los vehículos, por el abundante barro, y especialmente por una gran cantidad de puentes de madera en diverso estado de conservación y mantenimiento.
Aparentemente este patio de juegos no durará mucho más. Hace unos años el gobierno brasileño inició los trabajos de recuperación de esta vía, que hasta ahora se han visto retrasados por las protestas y demás acciones de los "verdes". Pero lo más probable, es que a causa de la necesidad de contar con una vía de comunicación más rápida y eficiente que la fluvial, este proyecto resulte indetenible. De hecho en este viaje se hizo evidente el progreso que ya presentan los trabajos de recuperación.
Llegaron a Aristóteles poco después de las 2300hrs. El joven de la moto se retiró a dormir, no sin antes tener la cortesía de dejar abiertas las puertas para que nuestros viajeros pudieran dormir sobre piso firme y limpio, en lugar del barro de la vía. La cena de esa noche consistió en sandwichs de atún con "batatas fritas".
The BR319 linked Manaus (Amazonas) and Porto Velho (Rondonia) until declared impassable in 1,988. It was built between 1,972 and 1,973, and covers a total of 550 miles. When 4×4 aficionados talk about this road, they refer to a 290 mile stretch that starts about 55 miles south of Castanho and ends in the vicinity of Humaitá. This section is characterized by broken asphalt, which brutally punishes vehicles, great amounts of mud, and particularly for a large number of wooden bridges in varying conditions of conservation.
It seems that this playground will not last much longer. A few years ago, the Brazilian government began this road's recovery works, which have been delayed by protests and other actions put forward by pro-environment supporters. But more likely, because of the need of a means of communication that is faster and more efficient than the river, this project will prove to be unstoppable. In fact, during this trip, the road work progress was evident.
They arrived to Aristotle shortly after 2300hrs. The young biker went to sleep immediately, but not before leaving the antenna facilities gates open as a courtesy. Therefore, our travelers could spend the night over firm, clean ground, rather than on the muddy road. Dinner that night consisted of tuna sandwiches with "batatas fritas" (fries).