S 05° 08' 56,1'' W61° 45' 40,4'' (Aristóteles BR-319) a Porto Velho. Continuación.
Continúa el lento avance por la BR-319. El plan es llegar hasta Porto Velho hoy, y para ello, es necesario seguir en marcha, deteniéndose lo menos posible.
The slow progress in the BR-319 continues. The plan is to reach Porto Velho today, and to accomplish this, it will be necessary to move on, stopping as little as possible.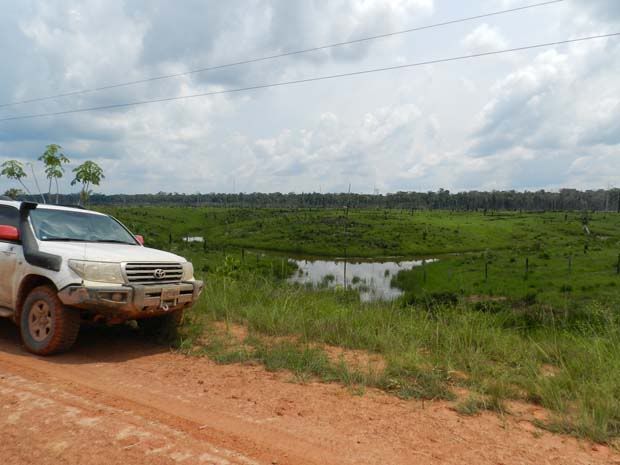 Saliendo de lo más tupido de la selva.
Leaving the thick of the jungle.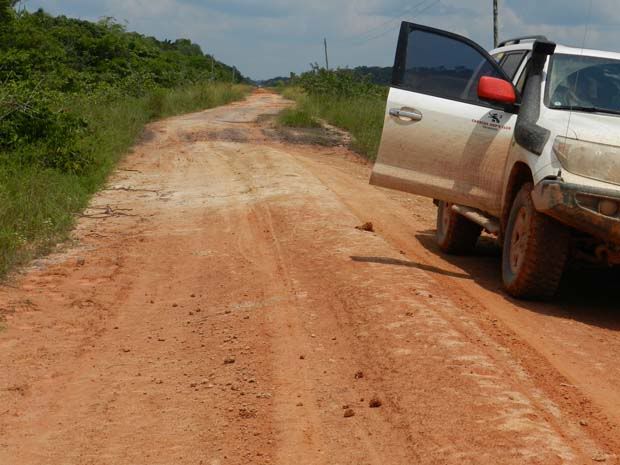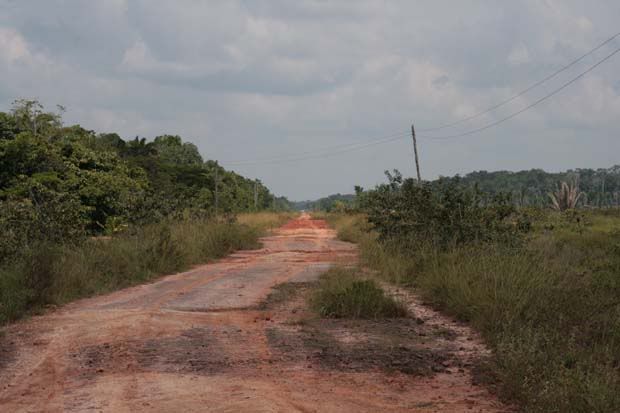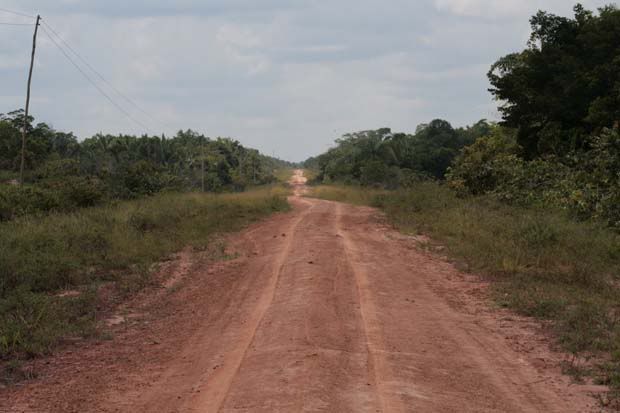 A ratos, el camino se antoja interminable, sobre todo porque los huecos en el asfalto roto obligan a avanzar muy despacio. Cuando se quiere llegar, encontrar estas rectas, una detrás de otra, pueden hacer que se ceda a la tentación de andar más rápido.
At times, the road seems endless, mostly because the broken asphalt forces them to move very slowly. When you want to reach your destination, finding these straights that stretch so far, one after another, can make you yield to the temptation to go faster.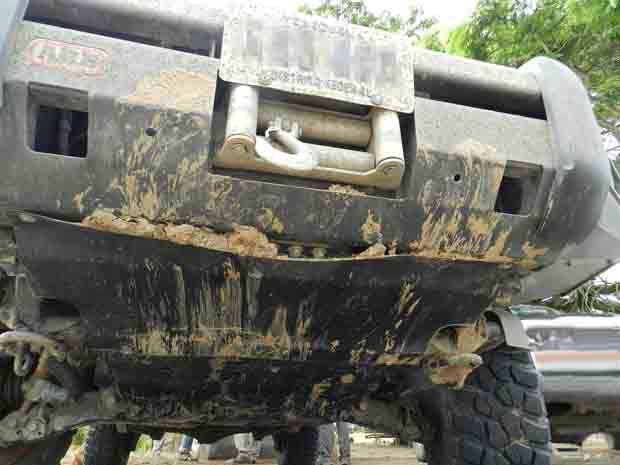 Sin embargo, aún en las partes en que se encuentra aparentemente en buen estado, la BR-319 puede traicionar con grandes huecos y depresiones muy pronunciadas que con toda seguridad ocasionarán daños ante cualquier descuido. En esta foto se ve claramente como el golpe contra el suelo ocasionado por de estas depresiones estuvo a punto de arrancar la protección inferior del parachoques ARB, deformando la lámina o peto y arrancando de cuajo los dos tornillos centrales. La velocidad para ese momento no debe haber pasado de unos 20 o 30 Km/h.
However, even in the parts where the road seems to be in good condition, the BR-319 can betray with large potholes and depressions that can surely cause damage if given the chance. In this photo, the damage a moment of neglect caused to the ARB bumper skid plate, deforming it, and tearing apart the two middle screws. The speed at the time of this incident shouldn't have been more than 12 or 18 mph.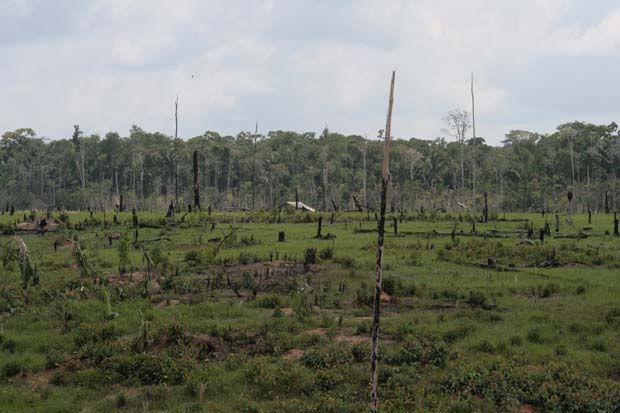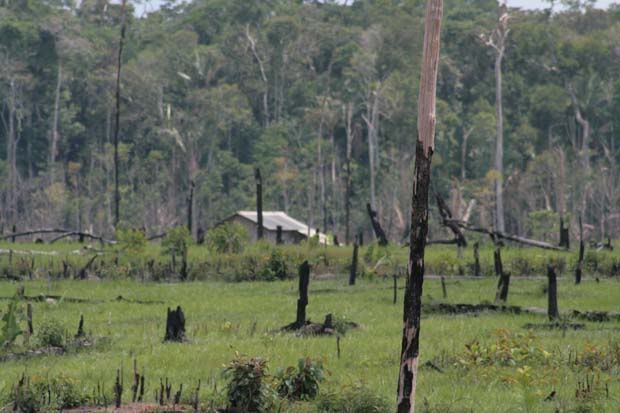 "Desmatamentos" en la selva amazónica.
"Desmatamentos" or deforestation in the Amazon Jungle.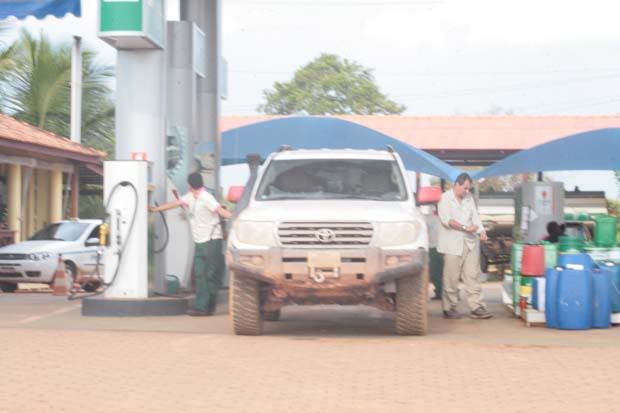 Una vez fuera de la parte complicada de la BR-319, lo primero es cargar gasolina.
Once out of hard part of the BR-319, the first thing is to get gas.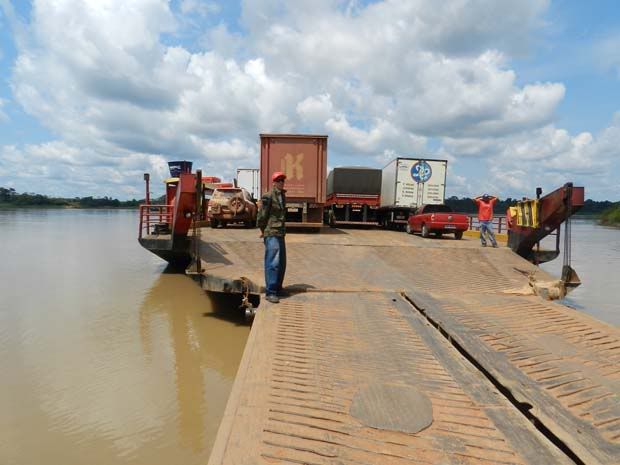 La chalana a Porto Velho.
The barge to Porto Velho.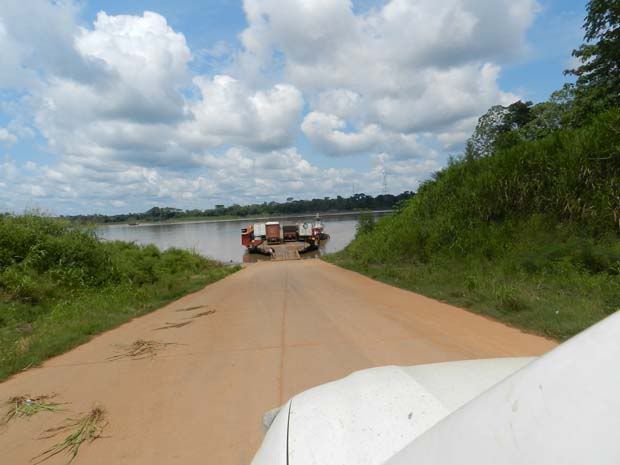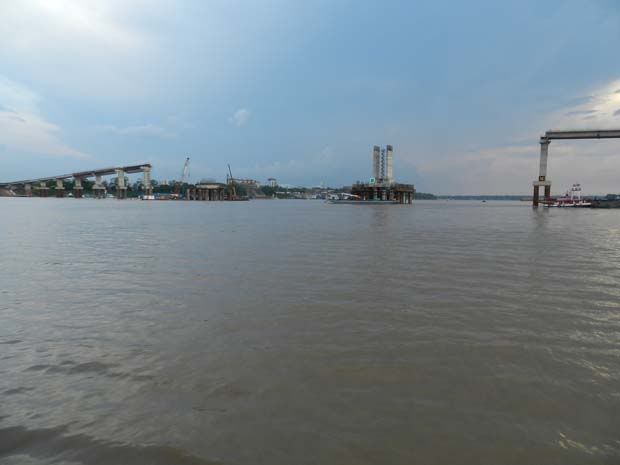 Pronto habrá puente y este cruce en chalana hacia Porto Velho será cosa del pasado.
There will soon be a bridge here, and the barge crossing to reach Porto Velho will be a thing of the past.

Los peatones y las bicicletas pasan gratis. El servicio está dísponible las 24 horas del día todos los días.
Pedestrians and bicycles go free. The service is available 24/7.

La bandera de los verdaderos venezolanos. Los que no están de acuerdo con la entrega del país a Cuba y no apoyan la destrucción de su país por un ególatra enfermo, tienen una sola bandera, y esta tiene 7 estrellas. Ni una más.
The flag of the real Venezuelans. Those who oppose the surrender of the country to Cuba and do not support its destruction by a sick egomaniac only have one flag, and it only has 7 stars. Not one more.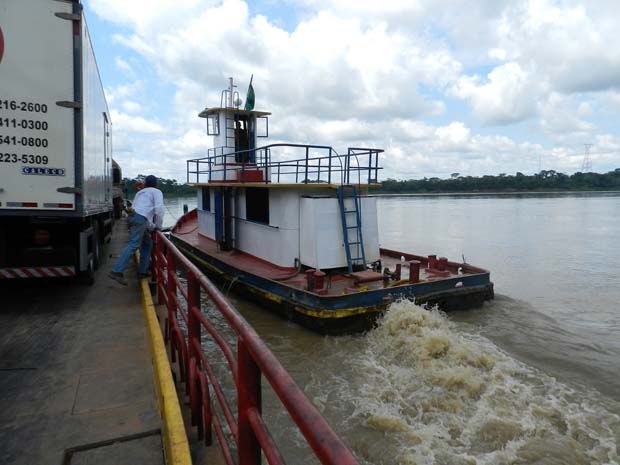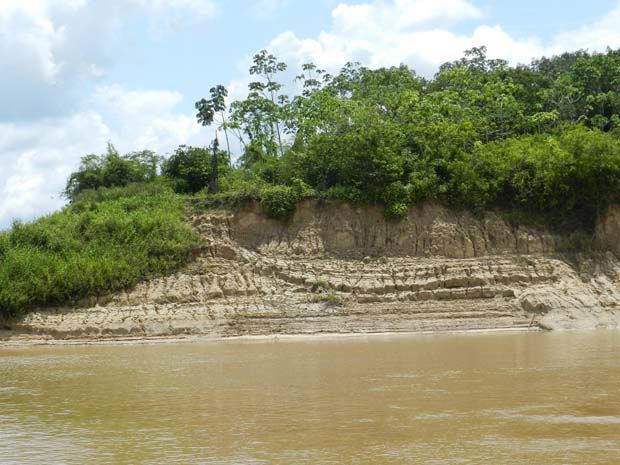 Tan cerca. Esto es Bolivia, apenas a unos metros. En esta foto se llega a ver una bandera boliviana entre la vegetación. Es una lástima que en esta oportunidad, este país no sea parte del itinerario.
So close. This is Bolivia, just a few meters away. In this photo you can even see a Bolivian flag amidst the vegetation. It's a pity that on this occasion, this country is not part of the route.
Porto Velho, capital del estado de Rondonia, resultó ser una ciudad mucho más pequeña de lo esperado. Al llegar ya avanzada la tarde, y partir temprano en la mañana, solo hubo tiempo para cenar y dormir, así que fue poco lo que pudieron ver. Sin embargo, llamó la atención lo difícil que fue satisfacer ambas necesidades.
Cuando se busca alojamiento en este tipo de paseo, la prioridad es el estacionamiento. Se viaja casi con la vida entera en el carro, así que lo último que se desea es ser víctima de un robo. Por esta razón, al llegar a cualquier hotel o posada, lo primero es preguntar por el estacionamiento, y confirmar personalmente si resulta lo bastante seguro como para dormir tranquilo. Si no lo es, hay que continuar buscando hasta encontrar uno que lo sea.
Porto Velho, Capital of Rondonia State, proved to be a much smaller city tan expected. Having arrived late in the afternoon, and needing to leave early in the morning, they only had time for dinner and sleep, so it was little what they could see. However, they took notice of how hard it was to fulfill those two simple needs.
When looking for accommodations in this type of trip, finding where to park is the priority. You travel with almost your whole life in the car, therefore the last thing you want is to be a victim of theft. For this reason, when arriving to any hotel or inn, the first thing to ask for is the parking facilities, and confirming personally if they are safe enough to warrant a good night sleep. If not, continue searching until you find one that is.