Jueves 08/12/2.011
Porto Velho a Iñapari
Distancia: 854 Km.
Tiempo Total: 12 horas y 58 minutos
Velocidad Promedio: 65,9 Km/h
Velocidad Máxima: 177,5 Km/h
Después de pasar la noche en el Hotel Aquarius, un poco caro para lo que realmente era y desayunar en el mismo hotel, salieron temprano rumbo a la frontera con Perú.
After spending the night at the Aquarius Hotel, a bit expensive for what it really was, and having breakfast there, they left early in the morning toward the border with Peru.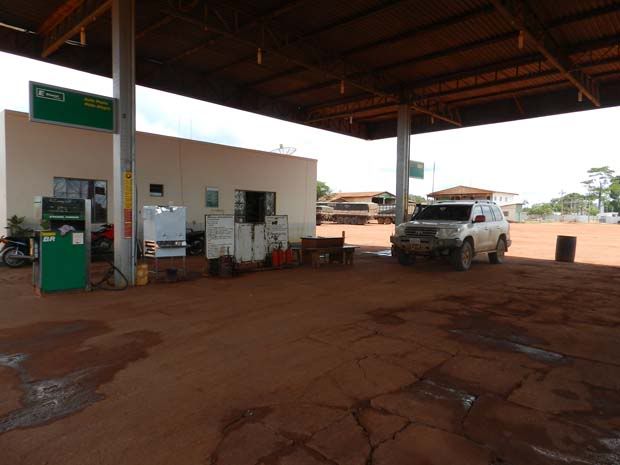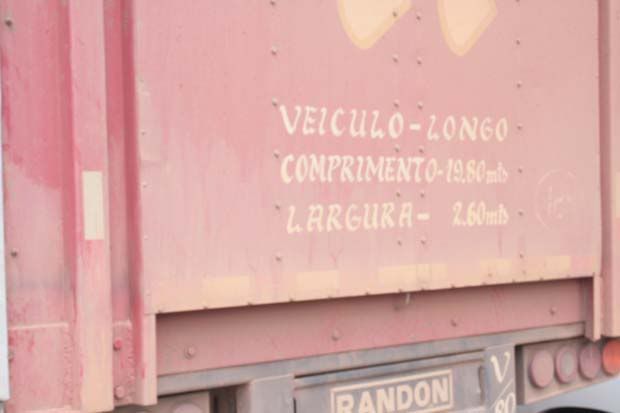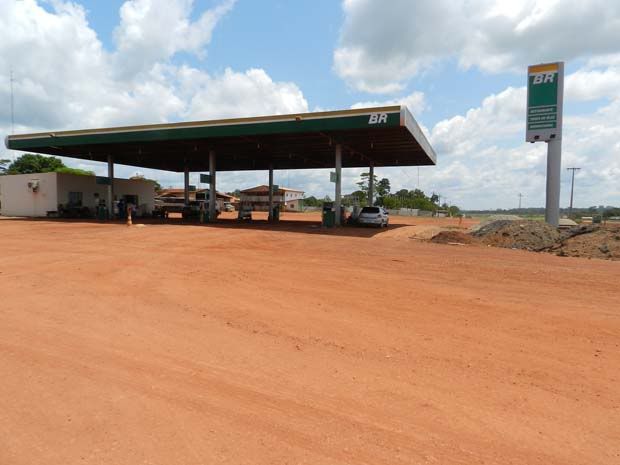 En este tramo tuvieron que afrontar frecuentes retrasos por diversas reparaciones y trabajos de ampliación de la carretera.
On this road, they had to face frequent delays because of various repairs and road expansion work.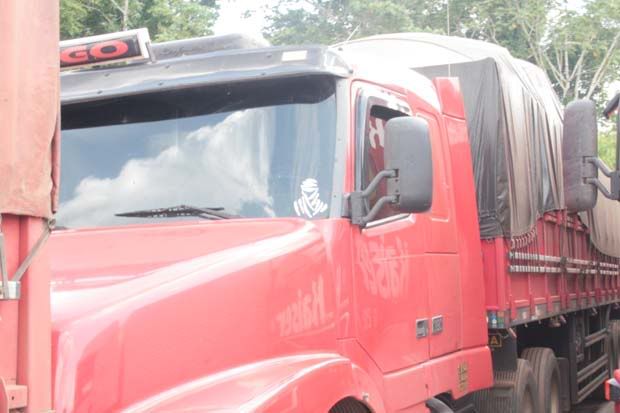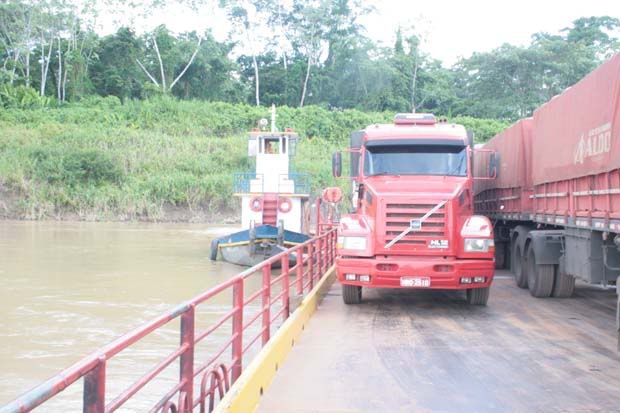 Otro paso de chalana. Este si fue una sorpresa, puesto que no se esperaba otro paso de estos en esta parte del recorrido.
Another barge crossing. This one was a surprise, since it was not expected in this part of the trip.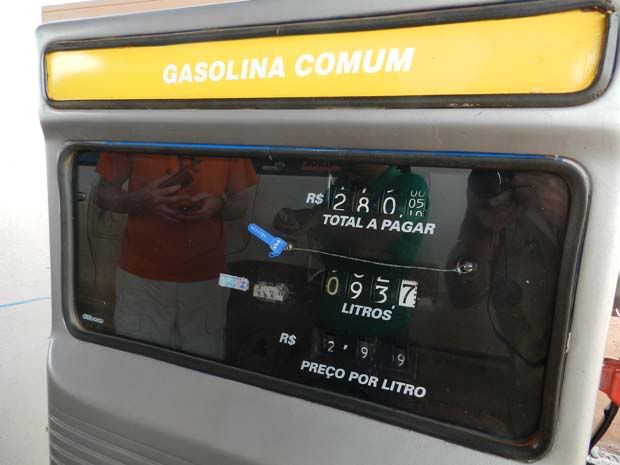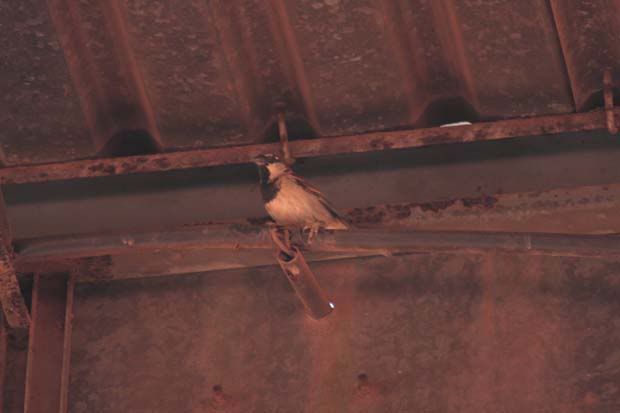 Durante el tránsito por Brasil, llamó la atención la cantidad de programas de radio de corte religioso, evangélicos para ser más precisos, caracterizados por lo intenso del discurso. También se hacia mucha mención al problema de los "desmatamentos" (deforestación) en la región de la amazonía.
During their transit through Brazil, they were surprised by the large number of religious, evangelic to be precise, radio programs, notable for the intensity of the speech. There were also a lot of mentions to the problem of "desmatamentos" or deforestation in the Amazon region.
Cusco, la meta de este paseo, ya luce fácilmente alcanzable. Solo restan 740 Km.
Cusco, the key destination of this trip, looks within easy reach. Now it is only 460 miles away.
Hoy fue un día difícil y bastante agitado. Toda la información obtenida antes de viaje, y confirmada apenas un día antes en Porto Velho, indicaba que había que hacer los trámites de salida de la camioneta en Brasiléia, 111 kilómetros antes de Assis Brasil, población por la que saldrían del país.
Por lo tanto, al llegar a Brasiléia, comenzó la búsqueda del lugar donde había que efectuar los trámites. En todos lados, incluso en el puesto aduanal de la frontera con Bolivia, la respuesta era la misma: "Para salir a Perú, hay que hacer aduana en Assis Brasil". Tras perder más de dos horas preguntando aquí y allá, concluyeron que no había más alternativa que llegar hasta allá para confirmar esta información, aún a riesgo de tener que regresar si no era así.
Finalmente resultó que los trámites de salida de la camioneta y de inmigración para salir de Brasil hacia Perú si deben ser hechos en Assis Brasil. Lamentablemente, con el tiempo perdido en Brasiléia, al llegar encontraron cerrada la aduana. Para aprovechar el tiempo, decidieron hacer los de inmigración de una vez. Esta fue una decisión que más tarde estuvo a punto de causarles inconvenientes.
Today was a difficult and quite agitated day. All the information gathered before the departure and later confirmed at Porto Velho, indicated that the customs paperwork to take the vehicle out of Brazil, had to be sorted out in the city of Brasiléia, some 70 miles before arriving the to the town of Assis Brasil, were the actual border crossing to Peru would take place.
Therefore, upon arriving to Brasiléia, they began the search for the office where these formalities had to be completed. Everywhere, even in the customs post in the boreder to Bolivia, the answer was the same: "If you are traveling to Peru, you have to go through customs in Assis Brasil". After losing more than two hours asking here and there, they concluded that they had no other choice but to go to Assis Brasil, even though they risked having to come back if this wasn't true.
Finally, they found that the customs and immigration formalities really had to be handled at Assis Brasil. Unfortunately, due to the time lost in Brasiléia, the customs office at the Brasil border was closed by the time they arrived. As the immigration staff was still working, they decided to go ahead with the immigration proceedings then, and save some time tomorrow. This was a decision that would cause some difficulties the next day.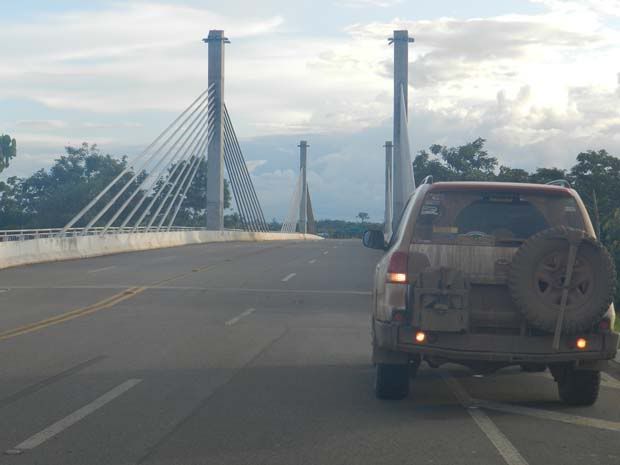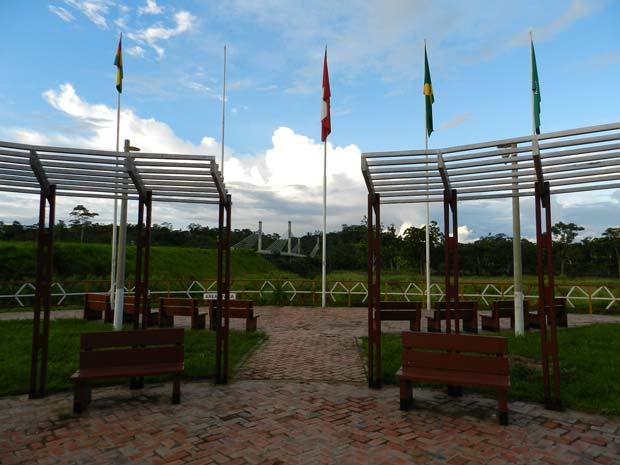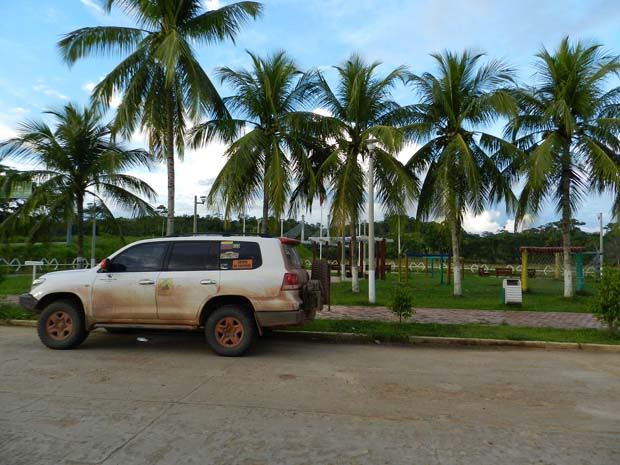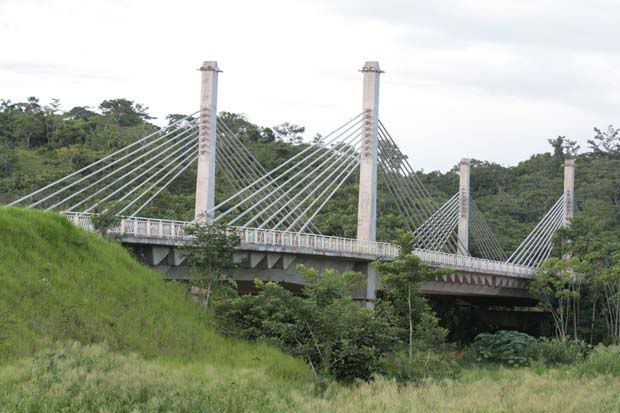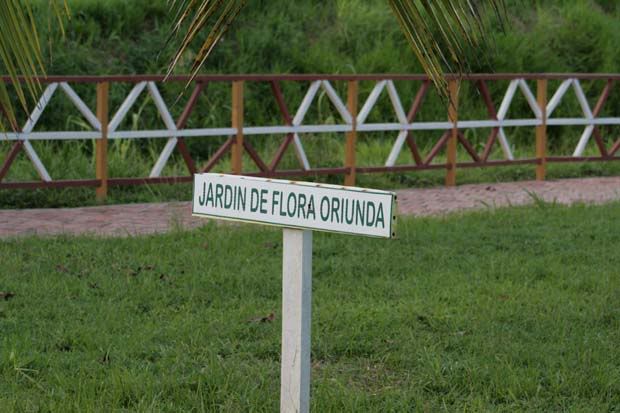 !? Por supuesto que es oriunda. Para empezar, no hay evidencia de que nadie haya traído plantas de ningún otro lugar. Esto les sonó a chiste, por lo demás ingenuo, de manera que a partir de este momento, oriunda sería la palabra más repetida a lo largo de todo el paseo.
(Sign: "Native flora garden"). ¡? Of course it is native. For starters, there is no evidence that anyone has brought plants from elsewhere. This sounded as a really naïve joke to them, which is why, from this point on, the word native, would be repeated very often during the rest of the trip.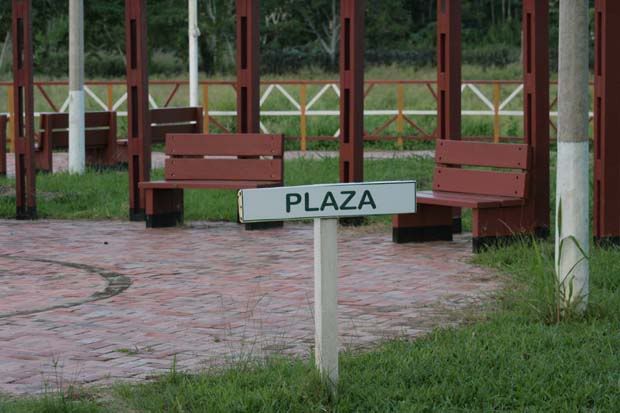 De no ser por el letrero, nadie se habría dado cuenta de lo que era.
(Sign: "Square") If it weren't for the sign, nobody World have realized what this place was.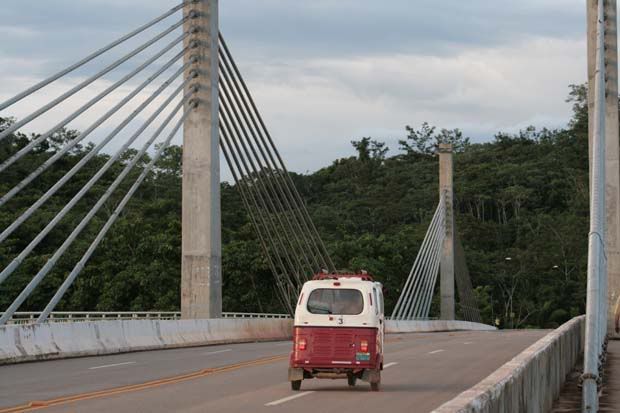 El puente que se aprecia en estas fotos, no existía cuando en el año 2.002, la Expedición Araucanía afrontó el paso del río. Como este era normalmente vadeable, tampoco había chalana, pero lamentablemente, a causa de las fuertes lluvias que azotaron la zona en aquél entonces, intentar cruzarlo en los vehículos no era una opción.
Fue necesario contratar los servicios de dos embarcaciones, e instruir a sus dueños sobre como unirlas con tablones, para poder transportar los Land Cruiser de la expedición hasta el otro lado del río.
The bridge shown in these photos did not exist when in 2,002, the Araucanía Expedition had to cross it on their way home. As it was usually fordable, there was no barge, but unfortunately, due to the heavy rains that hit the area at that time, attempting to cross the river in the vehicles was not an option.
They had to hire two small canoe style boats, and show their owners how to join them with planks, to be able to use them to transport the expedition Land Cruisers to the other side of the river.
Bastante precario resultó ser el medio utilizado para cruzar el río en aquella oportunidad.
The means used to cross the river at that time proved to be quite precarious.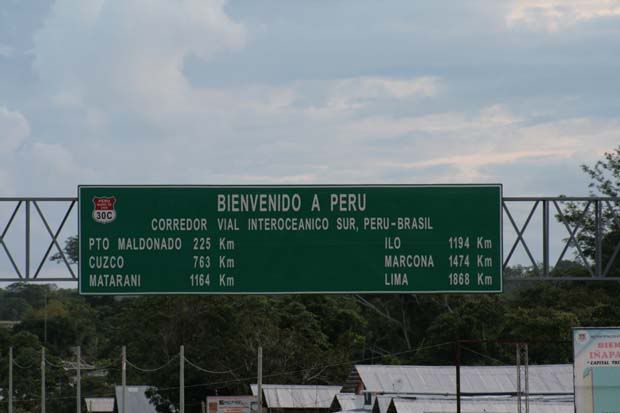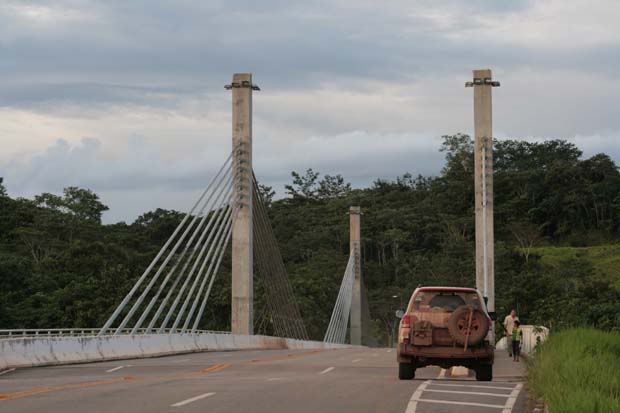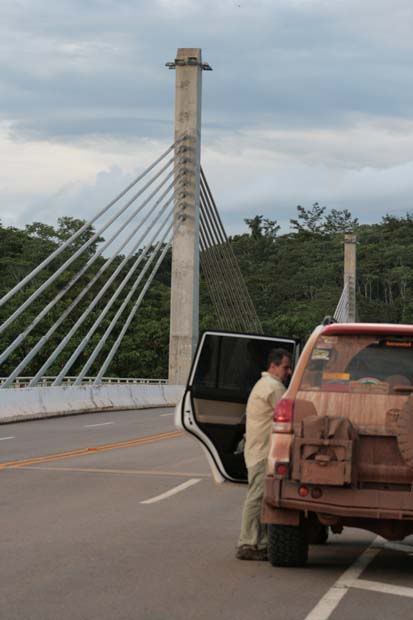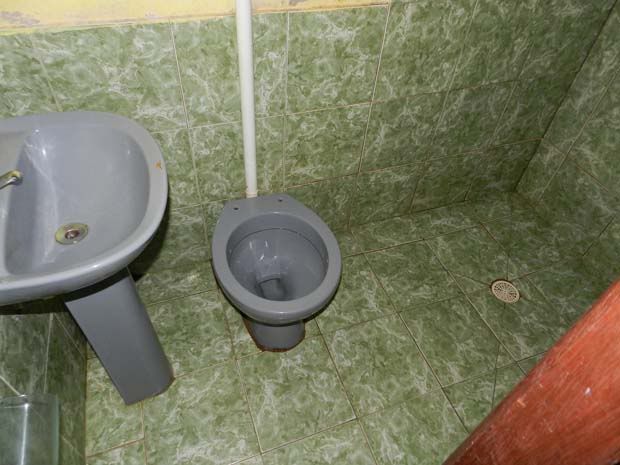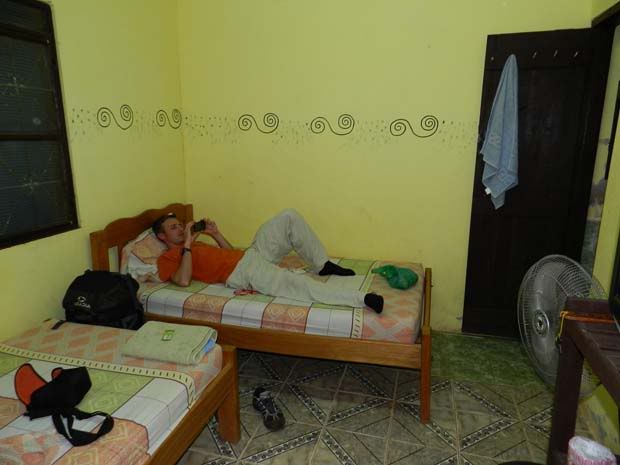 Las instalaciones del hotel "Frontera House" en Iñapari, no fueron de lo mejor, pero si cónsonas con el lugar donde estaban. Hay que recordar que hasta no hace mucho, este era un sitio remoto de muy difícil acceso incluso en vehículos 4×4.
Después de solucionar el tema del alojamiento, se dirigieron al centro del pueblo, donde decidieron cenar en una pizzería situada frente a la Plaza de Armas. Al ver en el menú que había cuatro distintos tamaños de pizza, le pidieron a la mesonera que por favor los describiera. Así aprendieron que la pizza pequeña es la mas chiquita de todas, que la mediana es un poco más grande que esta, mientras que la grande es, lógicamente mas grande aún y, por supuesto, la gigante es todavía más grande que esta última. Después de esta clara explicación, que les permitió comprender un concepto que nunca habían oido, se dispusieron a cenar.
"Frontera House" Hotel facilities weren't the best, but were consistent with the location. Bear in mind that until recently, this was a very remote site, where access, even by 4×4 vehicles was very difficult.
After solving the accommodation issue, they went downtown, where they decided to have dinner at a pizzeria located at the main Square. Seeing that the menu displayed four different pizza sizes, they asked the waitress to de scribe them. So, they learned that a small pizza is the smallest of them all, that the medium pizza is a little larger than the small one and smaller than a large pizza, which in turn, is smaller than the giant size. After this great explanation, which allowed them to grasp a concept they had never heard before, they set out to dinner.
http://tucanviajero.blogspot.com